The student card is only the size of a credit card, but it can spice up your student life. Not only it confirms your student status, but it also entitles you to all kinds of student discounts. Below, there are some important things you need to know about student card from Polish Higher Education Institutions (HEIs).
Facilities to access with a student card
Student card allows you to access HEIs facilities such as a library, sports center, entrance to the dormitory, etc. Furthermore, it provides up to 50% discount on public transportation allowing you to travel all around the country for less. The discount is also applied to other attractions such as the museum, amusement parks, historical places, public swimming pool, as well as theatres, cinemas, even restaurants.
Type of student card from HEIs and other institution
Student card for bachelor and master students

You can apply for student discounts if you are under 26 years old.
Student card for doctoral students

The student's discount is applicable to this card if you are under 35 years old.
International Student Identity Card (ISIC)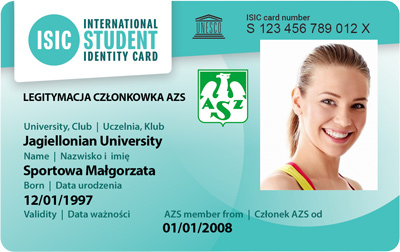 If you are coming to Poland for a student exchange, you can use ISIC to apply for student discounts. Some popular tourist attractions accept ISIC and student cards from Polish HEIs.
The validity of student cards from HEIs

Every new semester, you can renew the validity of your student card in the dean's office of your faculty. The validity will be extended by an official sticker behind your student card. So get your student card and enjoy the city!
Read about buying public transportation ticket with a student card here.