New restrictions in Poland from March 20
Poland will return to full lockdown on Saturday, extending current restrictions in some regions to the entire country. The new rules mean that recently reopened hotels, as well as cultural and sports venues, will close and the youngest children will return to remote learning. The new lockdown will come into force on 20 March and remain in place until at least 9 April.
Hotels, cinemas, theatres, museums, and galleries will be required to close, as well as swimming pools, ski slopes and most stores in shopping centers. The youngest three year groups – who returned to in-person teaching in January – will now go back to remote learning, which older pupils are already doing.
Fitness centers and gyms remain closed, as they have been throughout the last few months, but nurseries and preschools will be exempt from closure.
Hairdressers, beauty salons, banks, and laundry services will also be allowed to operate, while in shopping centers exemptions to closure will be made for grocery stores, pharmacies, press salons, book stores, and construction stores. Churches may also continue to admit one person per 15 square meters of space.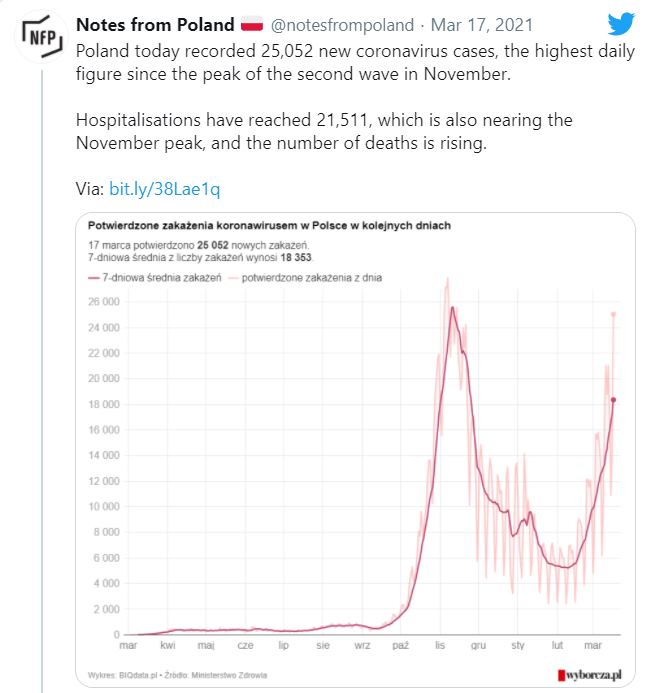 Stay healthy and safe!
Source: https://notesfrompoland.com/2021/03/17/poland-returns-to-full-lockdown-closing-hotels-schools-and-shopping-centres/