New COVID-19 restrictions in Poland from March 27
The new restrictions will apply from Saturday, March 27 to April 9. All existing restrictions remain in force.
The new restrictions are:
Closing of nurseries and kindergartens. The exceptions will be children of medical workers and law enforcement (including soldiers, police officers and fire brigades). Parents will be able to apply for additional care allowance.
Closing of beauty salons, hairdressers, beauticians.
Large-format furniture and construction stores with an area of more than 2,000 m² will be closed.
The new limit of people in shops and post offices: 1 person per 15 m² – in shops up to 100 m²; 1 person per 20 m² – in shops over 100 m².
The new limit of people in churches and places of worship: 1 person per 20 m².
The activities of sports facilities will be limited to professional sports only.
The government calls to limit contacts only to the closest household members during Easter, and to postpone any meetings and family gatherings to another, safer time.
The government recommends working online – wherever possible.
Other restrictions in Poland until April 9, 2021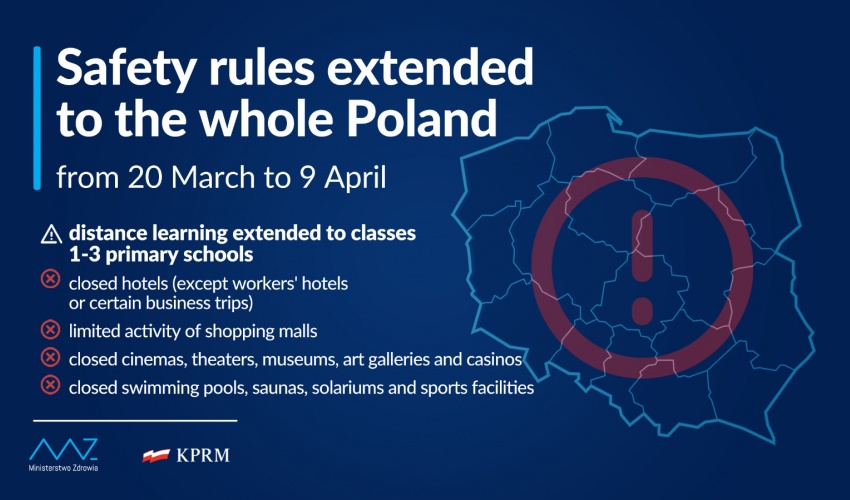 Closed during this period:
All schools (including grades 1-3).
Hotels.
Shopping malls.
Cinemas, theaters, operas, philharmonic halls, museums, galleries.
Swimming pools.
Ski slopes.
Gyms, fitness centers, sports facilities.
Restaurants (only take-out and delivery).
Other regulations:
Shopping malls are closed, with the exception of grocery stores, pharmacies and drugstores, press salons, bookstores, pet stores, and DIY stores. Hairdressing, optics, banking, and laundry services in shopping malls will continue to operate.
Public transportation -> 50% of the seats or 30% of the total number of seating and standing places.
It is forbidden to organize weddings, funeral banquets, first communion receptions.
Sporting events should be without an audience.
Trade fairs, congresses, and conferences can be organized online.
Obligation to wear masks everywhere in public spaces (also in the open air). You do NOT need to cover your mouth and nose in the forest, park, botanical gardens, historic gardens, family allotments, and on the beach. Masks do NOT have to be worn by children until the age of 5. The obligation to wear a mask also applies to people who practice sports recreationally, e.g. runners (unless we run e.g. in the park). From February 27, the obligation to cover the mouth and nose only with a mask. Scarves, headscarves, bandanas, and helmets cannot be used.
Shopping hours for seniors are canceled (stores used to be open from 10 am to 12 am, from Monday to Friday, only to seniors 60+).
Stay healthy and safe!