The teaching methods of Polish universities make the difference: you are free to express your opinions and to decide how to organize your study course.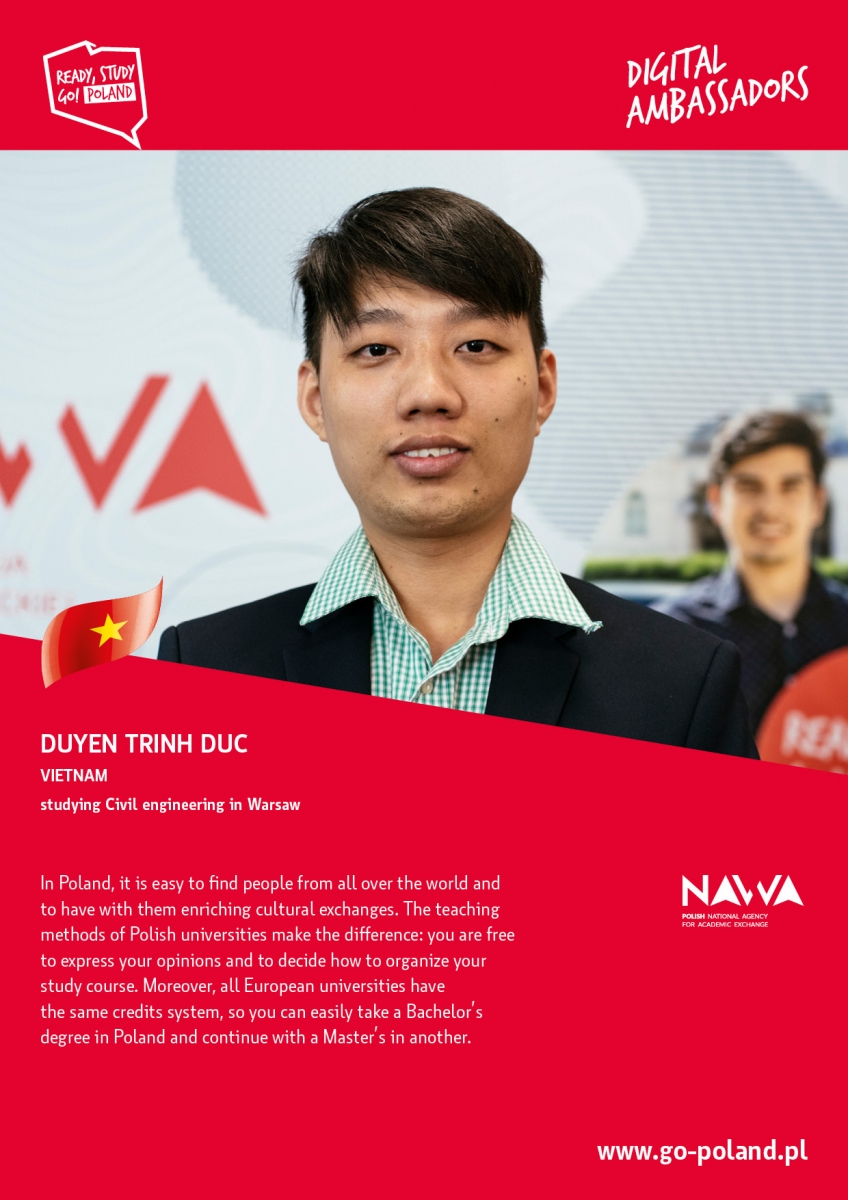 1. Tell us why you have chosen Poland as your study destination?
There are many reasons encouraging me to select Poland as my study destination. The first reason is that the great stories about the kindness of Poles and their culture was told by the words of my Professor when I was studying at university in Vietnam. Since my professor studied in Poland 30 years ago, has a lot of memories and always encouraged me to go to Poland to continue my academic study path.
Secondly, after applying and passing many steps, I got a scholarship from Government of Poland. Based on this Scholarship I had a chance to study a new language, which give me a lot of experience as new life. You know, in Vietnam there is an idiom like that "You live a new life for every new language you speak. If you know only one language, you live only once."
2. How is your experience in Poland going so far? 
There is no racism in Poland. As a Vietnamese you will notice that very quickly. You don't have to be self-conscious about how your complexion will affect your interactions with the authorities, especially if you speak Polish.
Polish food is amazing. Cheap, healthy and in a variety that is simply mind-blowing for a Vietnamese, but especially after long time about 40 thousand of Vietnamese have been living in Poland, there are many Vietnamese restaurants. So, I don't feel stranger in Poland.
Poland is generally a safe country and it really shows. Babies in strollers are left unsupervised in front of small neighborhood grocery stores. Women - and people in general - walk around at night not even thinking somebody could attack them.
After studying here about 4 year and now in PhD degree I would say that Poland has totally high levels of education.
Besides, I have to say that the interesting thing about student life in Poland is "Juwenalia" that is an annual higher education students' holiday in Poland, usually celebrated in May,  this chance for all students of entire Poland can relax and take part in a party whole day before the summer exams, sometimes also at the beginning of June.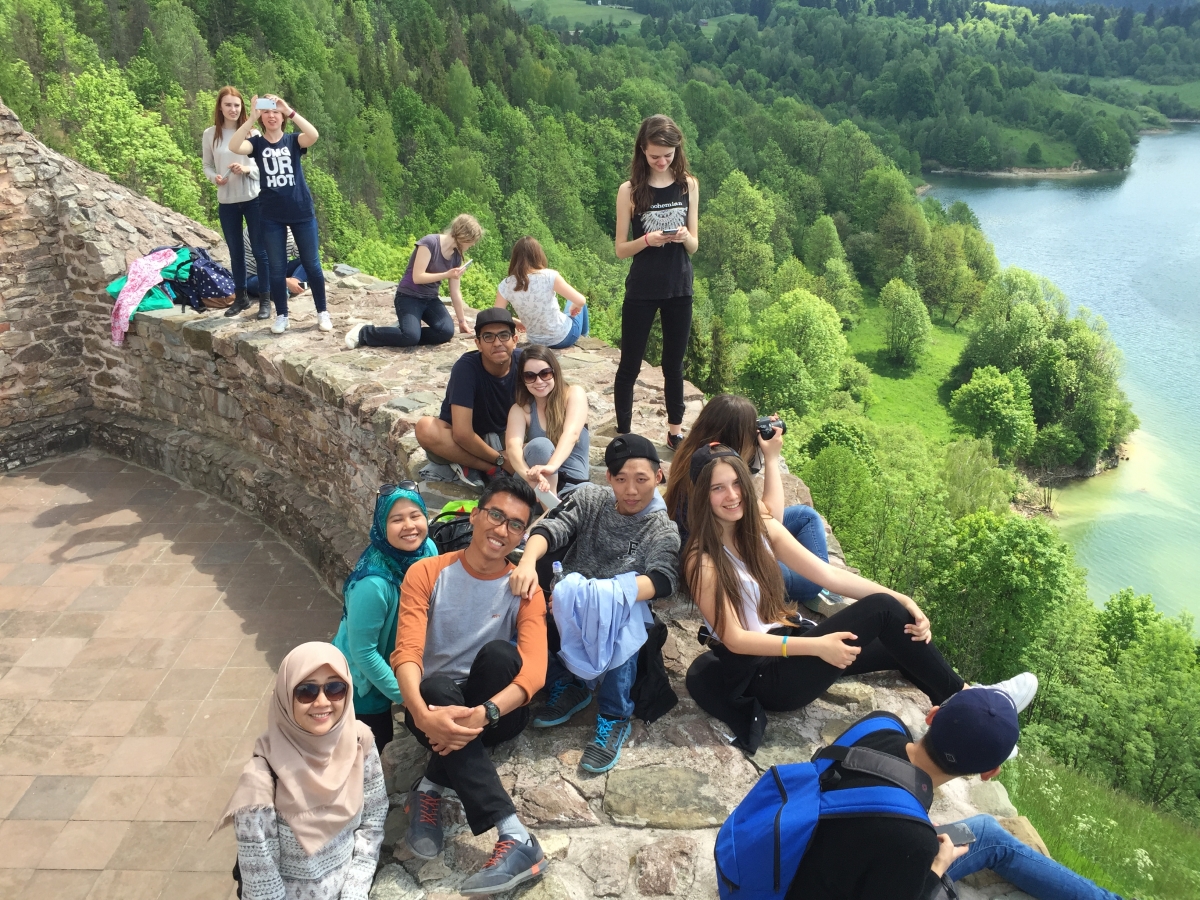 In Czorszytyn Castle, Pieniny Mountains
3. What you like the most about studying in Poland?
What I like most is the atmosphere of the honest pursuit of academic growth. All university I have been studying such as Politechnika Krakowska in Krakow, Politechnika Warszawska in Warsaw, I receive happy smiles of people willing to make my study experience better. My supervisor is a person with a sharp mind, yet moulds my intellect with opening-mind. It is like growing up in a lovely family, with everyone taking together their best. The active participation of students in the learning process is also a so interesting thing. Here, professors compel students to explore their minds and enrich their academic intellect fully. I like it that I can think independently and share my thoughts with my supervisor, who then gives honest feedback.
4. What would you tell students in your home country to encourage them to come to Poland?
Good things about Poland consists of the culture, the systems, the infrastructure, the people, the climate and the opportunities. There are a lot of positive aspects of studying here. The personal growth is really huge. You can get the high-quality qualification. You cannot fake your way into a research award here. You have to take the work yourself and work so much.
Polish universities provide a big range of courses and lots of them are best of many world rankings. In Poland, it is easy to find people from all over the world and to have with them enriching cultural exchanges. The teaching methods of Polish universities make the difference: you are free to express your opinions and to decide how to organize your study course. Moreover, all European universities have the same credits system, so you can easily take a Bachelor's degree in Poland and continue with a Master's in another.
I also like the practice-oriented research here. There is a dynamic side of university life which reflects the advancement of knowledge, and thus development-unlike in many developing countries, where old knowledge is still being circulated decades after it became outdated.
From all reasons, Poland is the best destination to pursue the higher education.
5. Could you tell us your story?
I am a PhD candidate and researcher at Warsaw University of Technology (WUT), from Hai Duong, Vietnam, but I have been living in Warsaw, Poland for nearly 5 years. I graduated Bachelor's degree from National University of Civil Engineering in Vietnam, and after finishing the Master course at WUT based on the scholarship program of Government of Poland, I am continuing to pursue my academic study in PhD degree at Faculty of Civil Engineering, WUT. And experienced Construction Engineer with a demonstrated history of working in the construction industry. Skilled in AutoCAD, Revit, RSAP, SAP2000, and ABAQUS. Strong operations professional with a Master's Degree focused in Structural Engineering from WUT.