I like how professor in Poland are more friendly to work with, for example giving me guidance from A to Z when I did my mini research project, treating the student as their equal co-worker.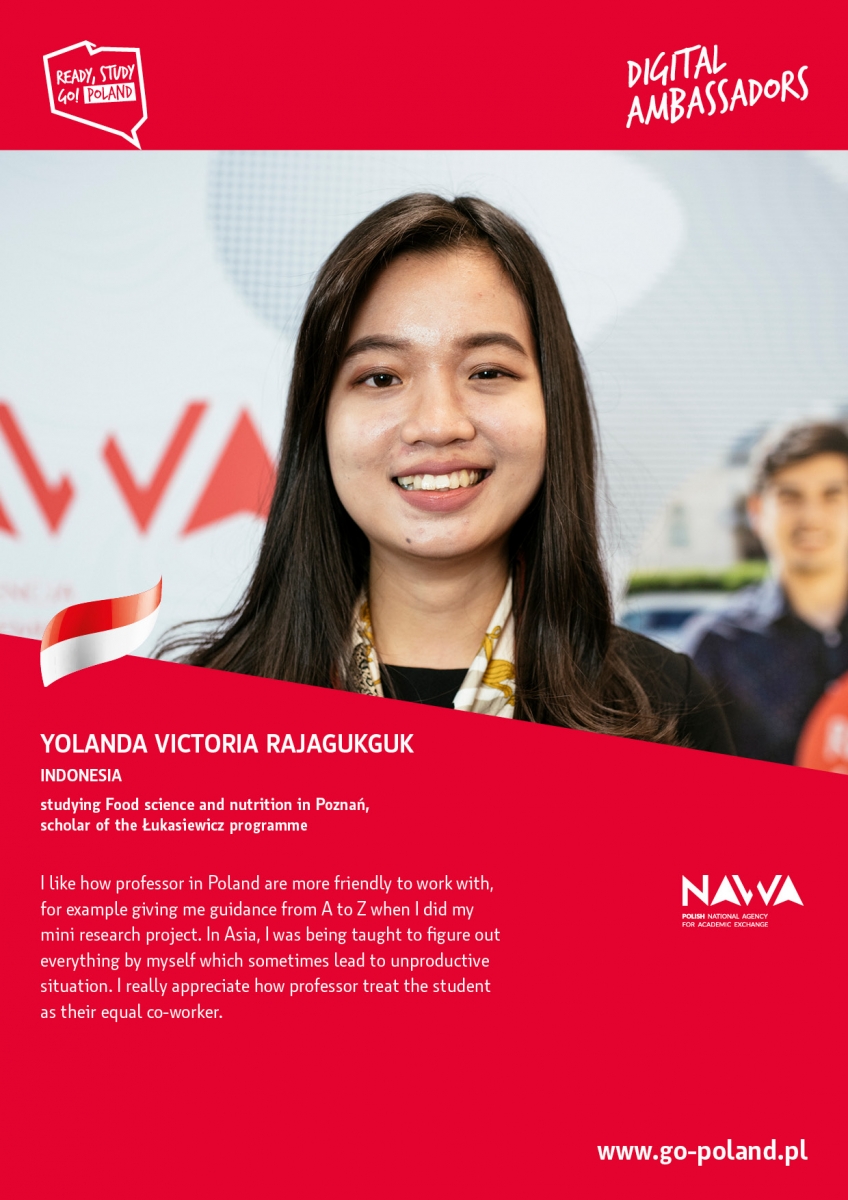 1. Tell us why you have chosen Poland as your study destination?
I chose Poland because of the central location, the affordable price and the high-quality education that Poland offers. Furthermore, Indonesian population living in Poland is small, I believe this factor would give me bigger opportunities for my future career in Poland afterwards.
2. How is your experience in Poland going so far?
I remember my first day in Polish language school, to enter my classroom I need to walk down the long corridor along with the cold and strange stares looking at me. Days passed by, the day I graduated from language school, somehow those cold stares become warmer and friendly as we speak the same language now. I could say I'm so blessed to be one of Łukasiewicz scholarship awardee. From this program I got to experience living as a foreign student in Poland to the fullest. By that means, for a year I learned Polish language and culture intensively. In my language school, we celebrated most of Polish holidays just like locals do.
During All Saint's Day, I visited the cemetery and pray for the war victims. I exchanged gifts during Saint Nicholas' Day and went to Arboretum during Majówka. Sometimes, I encountered unpleasing situation for being a foreigner, but that doesn't make my love to Poland become less. I learn something new every day and it feels like discovering the new world as a child again.
I also met a lot of good people from any ages, those who have a great patience hearing my broken Polish. In short, my relationship with Poland has been great!
3. What you like the most about studying in Poland?
I like how professor in Poland are more friendly to work with, for example giving me guidance from A to Z when I did my mini research project. In Asia, I was being taught to figure out everything by myself which sometimes lead to unproductive situation. I really appreciate how professor treat the student as their equal co-worker. Other important things about studying in Poland are the integrated student discount (from public transportation to tourism attraction) and the strategic central Europe location that makes students mobility more efficient. For example, attending conferences around Europe wouldn't be a problem because every European country are close to each other.
4. What would you tell students in your home country to encourage them to come to Poland?
Poland is the land of opportunities, that's how I picture Poland ever since I did my scholarship application. We all know our quality and limitation, as for me, I like to use this kind of metaphor; big fish in a small pond. With the small population of Indonesian in Poland, you can be one of the experts in your field and yet at the same time you are the representative of your country. Along with your identity and expertise, Poland would change you to be the best version of yourself. I can't promise you for rainbow, there will be the time when you are not comfortable because you are different. But trust me, it is all worth to fight for and studying abroad is the best thing you could do in your 20s. Apply for Polish education, pack your bags, leave your worries behind because the brand-new world is waiting for you!
5. Could you tell us your story?
During the past 7 years, my life has been all about scholarship hunting. University tuition fees are expensive in my country, there was a time when my parents told me I need to postpone my bachelor study for a year because they couldn't afford my university admission fee. It was the hardest point of my teenage life and I became opportunities hunter ever since. Thanks to scholarship and other forms of free education including paid internship, I finished my bachelor study, I did my internship in a winery in Bali island, my undergraduate thesis was being supervised by Thailand's best scientist in Food Technology. Life after graduating from bachelor was hard, I applied for master's degree in East Asia and Europe by contacting professors and I got rejected a lot. I also applied for official governmental scholarship with my boyfriend, we got accepted together after our 5th application.
Other than scholarship hunting, my hobbies are doing watercolor painting and exploring cities' museum. I won the 1st place of an art competition held by my Polish language school last year. I painted a Jesuit church in Piotrkowska street, Łódż, because it was the first church that I visited in Poland. I'm also interested in voluntary activities, especially cultural sites preservation. Last summer I joined an organization named European Heritages Volunteer, I volunteered in Freudenstadt, Germany on a 120 years-old hotel named Hotel Wadlust. My voluntary work was focused on the recultivation of the former hotel park.
Yolanda Victoria Rajagukguk