I have chosen Poland as a place of study because it is a country that values excellent and rigorous academic pursuit, religious and spiritual depth.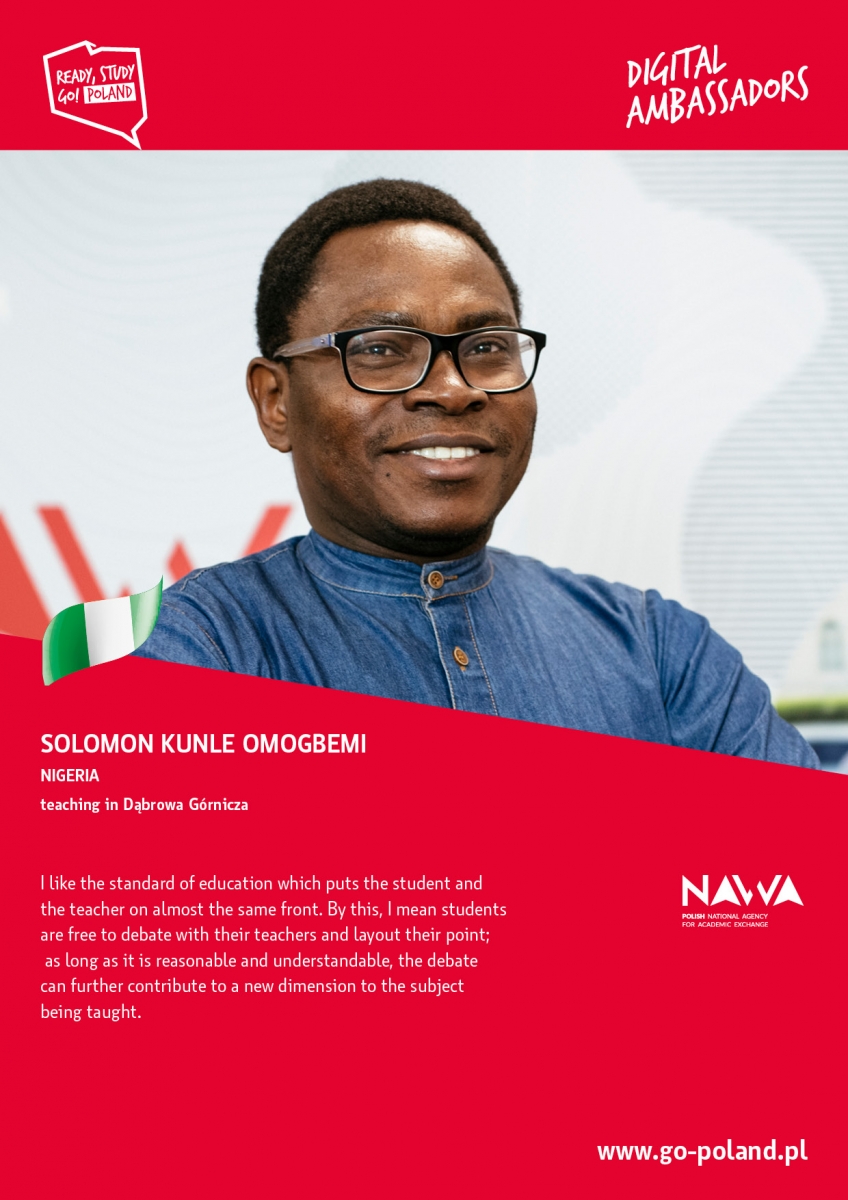 1. Tell us why you have chosen Poland as your study destination?
Poland became a choice of study destination for me because of the high recommendation I received about the country from my mentor. Upon arrival, I found out that there were many similarities Poland shares with my country Nigeria. The cultural diversification Poland has achieved in such a short time soon after the collapse of the Soviet Union is quite remarkable. This diversification has seen two Nigerians occupy prominent places and actively participate in the Polish political and sports arena. John Abraham Godson, a Polish politician of Nigerian descent became first African ever to be elected into Polish parliament while Emmanuel Olisadebe played for the Polish national team as a striker during the 2002 world cup. My past experience living and growing up in Nigeria as a multi-lingual, multi-cultural, multi-religious and multi-ethnic country has been similar in many respects also living in Poland and it has been an enriching experience.
Poland has such a rich history and has seen many dictatorships, occupation by various countries, devastating wars and even at one time she temporarily did not exist on the map of the world. In spite of all the hardship and setbacks Poland experienced, she has shown her resilience and strength. She has emerged a stronger, determined and united country. I can identify with emerging from difficulty and setbacks because I also have a similar personal story growing up with many roadblocks and challenges, however, I have emerged unwavering, focused and stronger in my resolve to be the best I can be. Poland continues to inspire these values in me and is one of the reasons why I chose her as a place to pursue my studies.
It is worthy of note that there are numerous remarkable and significant educational and scientific contributions Poland has made to the global scientific community. I recall during my high school days as a young science student, my first contact ever with Polish scientific excellence were the contributions of the brilliant Polish Chemist, Marie Skłodowska Curie. I read that she discovered two elements on the periodic table, pioneered research on radioactivity and became the first female Nobel Laureate, the first person and only woman to win the Nobel Laureate twice. I was quite fascinated and she immediately became one of my scientific heroines for her various contributions to the world of science and medicine.
In conclusion, I have chosen Poland as a place of study because it is a  country that values excellent and rigorous academic pursuit, religious and spiritual depth. Therefore, for these reasons, Poland has been the prudent choice in pursuit of my ongoing doctoral degree in the field of management with a focus on Corporate social responsibility. In addition because of the great support I have received while studying here in Poland, I succeeded in writing and publishing three academic papers within a space of two years. I have also been able to teach language schools, primary and high schools.
2. What do you like the most about studying in Poland? 
Practical Approach to Education
There are many things I like about studying in Poland. From the practical educational approach, the teacher-student relationship, the rich culture of sport, music, food and the people, the affordable standard of living to the diversities of people. The practical approach to education in Poland is amazing. The employability student before or after their education rate is commendable. This has ensured that students graduate from the university with the possibility of being gainfully employed immediately. The certificate and degree awarded are internationally recognized and most of the Polish institution have international connections with great university worldwide. This practical approach tantalized my appetite for knowledge and studying in Poland. Unlike in some places I have been to study, where education mostly theoretically based, the practicality of education has also helped in creating entrepreneurial space for economic growth and development. There are many foreign students who now run their own business as a result of this practical based education. This means that the contribution of these foreigners to Poland's economic growth and development has given by an enabling business environment through the various government business policies.
Teacher – Student Relationship
One of the things I like about studying in Poland is the strict adoption of the EU standard of education which puts the student and the teacher on almost the same front. By this, I mean students are free to debate with their teachers and layout their point; as long as it is reasonable and understandable, the debate can further contribute to a new dimension to the subject being taught.
Sports, Music and Spirituality
The rich sports and musical culture became a centre of deep attraction to me from the first time I visited. The level of musical appreciation also another aspect of Polish education that I like. As a music student, Fryderyk Franciszek Chopin a Polish composer with a great mind inspired and influenced me a lot. And as a smooth-jazz lover, I found the environment very comfortable for my musical development. I have been a part many musical concerts and also participated in two Silesian half marathon where I broke my own personal record. The possibilities of engaging in activities that would refresh the mind spirit soul and body is one of the things like most about studying in Poland. Poland has also contributed to the religious and spiritual progress of the world by providing spiritual leadership in none other than Pope John Paul II. He was an iconic Polish figure who survived World War two and rose to become the Pope and blessed the world with his love for humanity and spiritual leadership.
People, Food and Culture
The people, food and culture of Poland is another reason why I like to study here. The people I have met so far have been very friendly and have even given me the opportunity to grow socially, mentally, professionally, academically, and spiritually. The people I have met here have warm, hospitable, understanding and very supportive. One cannot imagine living thousands of kilometres away from home and not have friendly people around. The emotional support, kindness and care are wonderful. The food took some time to get used to. But once I got used to it, it wasn't long before my whole system began to sing Hallelujah!!! The foods are in most part healthy, delicious and tasty. My favourite is the beetroot soup called "Barszcz". The soup is so delicious and no other place, in my opinion, would you enjoy such as in Poland. The Ukrainians say theirs is the best; well I am yet to taste theirs and until then Polish Barszcz remains the only Barszcz.
Affordable Standard of  living
In comparison to the other EU countries, Poland has a relatively affordable standard of living. The tuition fees, the accommodation, the cost of buying food, cost of transportation and cost of entertainment are all affordable. You don't have to to worry, no matter the amount of money you bring with you, if you are not the heavy spender, you should not have any problem.
Poland and Racism
I was told that racism exists in Poland but could not see that word racism. Not before I arrived here nor after did I ever experienced anything that I can term as racist. The decision to study in Poland is one of the most interesting decisions I have ever made in my life. Everybody is treated well here. And the law is there to protect your interest as long as you abide by the law. This is also one of the things I like about studying in Poland.
In conclusion, I discovered and realized that studying in Poland aligns with my academic pursuits, values and vision. I have absolutely no regret with the choices I have made about my decisions for coming here to study.
3. What would you tell students in your home country to encourage them to come to Poland?
Be flexible
Let me share a little secret with you, about how I came to be in Poland. The secret is termed "FLEXIBILITY". By this I mean, being flexible with your plans. I was once given this advice by a young friend of mine who had won a scholarship award to study in China. He said, stop looking at the west, look eastward and you will not be disappointed. The world is not looking towards the west again in terms of education. Studying in Poland comes with a lot of opportunities. But only for those who really want to take good advantage of such an opportunity. Some of those opportunities and advantages are but not limited to:
Globally accepted diplomas
Good and affordable standard of living
Affordable tuition fees
Personal and career development
Access to a highly diversified international community
Good and affordable standard of living
Life in Poland is affordable and in line with the European standard. Student accommodation in the hostel is significantly cheaper than the single rooms in the city. The prices range from between 620 PLN (an equivalent of 120 EUR) to 700 PLN (~ 150 EUR).
Affordable tuition fees
The cost of tuition in Poland is by far the cheapest compared to most European Union countries. And you will be shocked to know that, to study in a private university can even be cheaper than in Asia or the United States and the United Kingdom.
Globally accepted diploma
If you are looking for a globally accepted and recognized diploma(s), Poland is the right place to come. Studying in Poland offers a broader outlook that will further engender your prospect professionally and socially. The diploma helps you to demonstrate your potentials and access to well structured international and intercultural work environments where you can horn your career skills and development. The initial support you will receive to learning is structured towards enabling you to be more relevant to this changing and dynamic society. Your learning is not so rigid but flexible enough for you to learn through various means-textbook, journals, and internet.
If you perform excellently in your studies, there are various scholarships to further encourage you. Such scholarship as the state scholarships that comes in different forms and the performance-based scholarship. There are also scholarship programmes from international organisations which will require that you show your talent or intellectual prowess. The institutions here, issue a single state standard diploma; this means that the type and status of your university do not count as long as your university is accredited and recognized certificate is issued by the state.
Personal and Career Development
One of the things you should consider for coming to Poland to study is the prospect of developing yourself and building a career path that will impact on the total good of all concerned. I will recommend Poland as a study destination because it provides a rich cultural experience. The historical landmarks are amazing, the landscapes are beautiful, the city life is wonderful and the social activities are remarkable. There are many international and national or local businesses that are creating employment opportunities for the increasing numbers of graduates on a regular basis.  
Access to a highly diversified international community
One of the things that will interest you is the highly diversified international community in virtually all the cities and townships in Poland. This dynamic set of individuals brings in their various expertise to impact on the polish professional life. You want to add yours to it and write your name in Gold. You also want to learn from those professionals probably who have far more experience than you.
4. Could you tell us your story?
My name is Solomon Kunle OMOGBEMI. I am from Nigeria. I had my first degree in Economics and graduated with a bachelors honours from the Lagos State University in Nigeria; after which I proceeded to obtain a master degree (cum Lauda) in Economy and business administration from Euroakadeemia, Tallinn Estonia.
During my master degree, I had decided to participate in the Erasmus+ exchange programme. My initial plan was to go to the United Kingdom or the United States. But the dean of my faculty encouraged me to come to Poland. Prior to this, I had never been to Poland and the closest contact I had with the country was through some books. I hoped for the best and looked forward to it in my imagination. But I had a neighbour who had told me all the negative things there are about Poland. And these reports were not good at all. There is racism in that country. You will be lynched. I must say I was very scared. I have never experienced racism before in my life and don't equally know how it looked. I couldn't even imagine it. But as someone who loves taking risks, I decided I would come racism or not. And I told my neighbour I would be fine.
On the day I was to leave Estonia, I packed my luggage, took my saxophones and as I will be gone for more than three months, notified the appropriate authorities about my absence from the country and off I came. This was in February 2016. I landed in Warsaw at about 2 pm and waited for the connection to Krakow. While in Warsaw, I met very wonderful and nice people. Even though we could hardly understand each other, they did manage to help me in their little ways to get the things I wanted. Yes… The language quickly proved to be a very tough one. I had thought that I had learnt a few basic works for navigation but soon found out that communication was beyond that; so I switched to google translate which was not yet so perfect in translation then. I left warsaw at about 6 pm and arrived in Krakow at about 4 am in the morning. My journey had taken two straight days. Tiring though, but very interesting because I met will a lot of people in that first long journey within Europe, some of whom are still my friends till today.
Krakow looked almost like Warsaw. I worried and a bit apprehensive. I tried to speak to a couple of people at the bus station but they were a bit shy as we could not understand one bit of what we were all trying to say to each other (lol). But they did try to help still. You see I had never slept over at any bus station in my life. But Catching asleep at the Krakow bus station was another beautiful experience. Once it was 7 am I found my way to the Currency exchange centre and changed the Euros I had with me to Polish Zloty. I had though because Poland was an EU country, they also would be spending Euros. But I was wrong. After changing the money, I made my way to the Bus stop where I boarded the bus going to Katowice. I arrived in Katowice at about 2 pm and it was a different site altogether. People everywhere, cars, buses, motorbikes, bicycles were everywhere. And it was warmer than Estonia even though it was winter. I found my way to the bus station in Katowice and made my way to board the bus that would take me to Dabrowa Gornicza where the school I was going to is located. My arrival at Wyszswa Skola Biznesu w Dabrowej Gorniczej was amazing. I have never received such welcome before in my life. I felt like a king returning home after a conquest. This welcome won my heart over contrary to my neighbour's negative stories about Poland. 
I had my eye set out to make as much positive impact as I could within the short period of time that I thought I was going to stay. In conjunction with some of my new friends from Ukraine and Poland, we had the opportunity to set up a music band, and we put up a few mini-concerts for the university during various events like International Day in the University which had some universities from Ukraine, and the USA in attendance. The Academic environment was also mind-blowing to me as I had not seen anything like it before I arrived in Poland. The most fascinating aspect of my study was the practical approach given to the lectures. I soon understood that those lecturers were professionals in their industry. By the time my Erasmus+ time came to an end, neither I nor the University wanted to part ways. But I must return to Estonia and report to my school there. But I did make up my mind to come back again if given the opportunity to. In 2017, just exactly one year after I left Poland to return to Estonia, I was back again and this time around on a bigger scale to WSB University as an intern. I had never had the internship experience before now. And I wanted to taste how it will look like. It proved to be the most interesting decision I had made in my life. After my internship, I was offered the opportunity to work with the University, an offer that has now seen me commence my Doctoral studies at the same university.