Pursuing my studies in Poland was the best decision I have ever made. Coming here opened my eyes about plenty of things. I am looking forward to the adventures yet to come.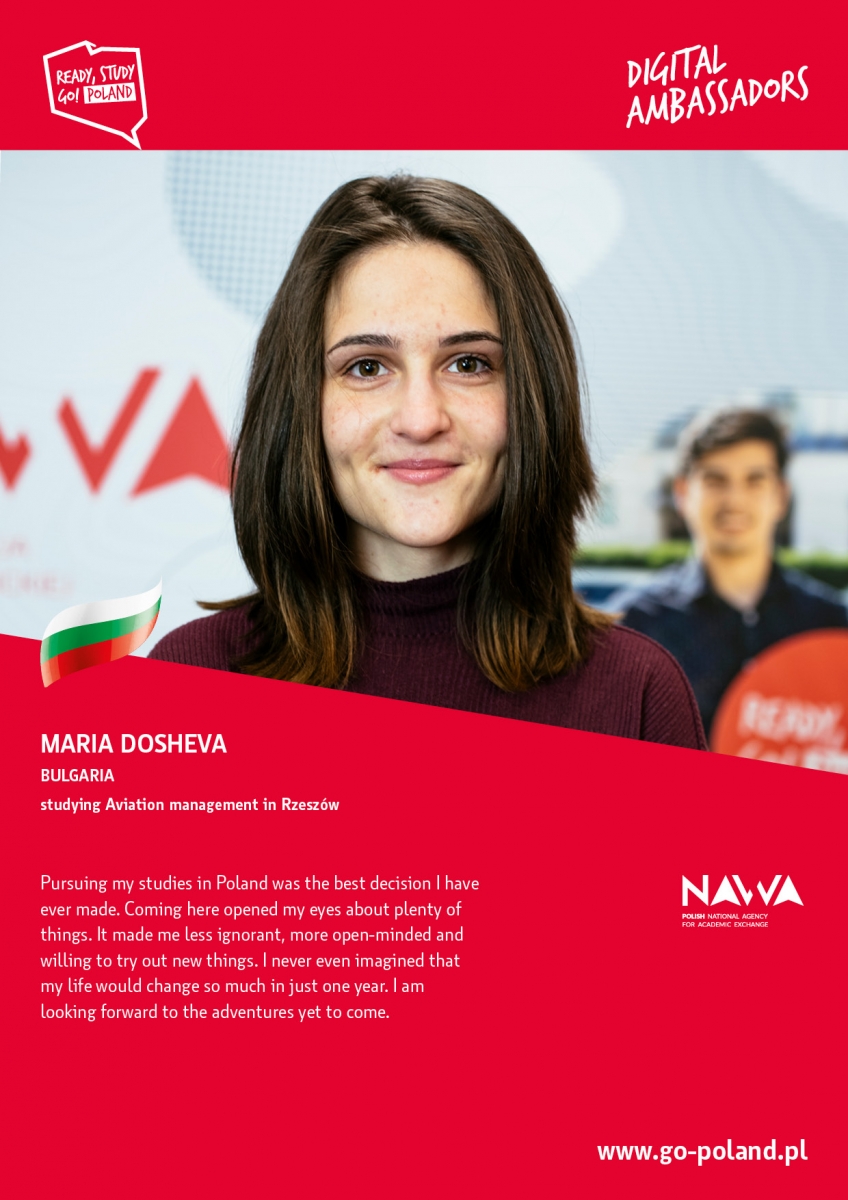 1. Tell us why you have chosen Poland as your study destination?
The University of Information Technology and Management in Rzeszow is one of the few universities in Europe that offers the Aviation Management program. I did not know anything about Rzeszow or this university before going there, however, I had been to Poland before that. Almost 3 years ago, when I was still in high school I took part in an Erasmus+ project. I hosted a girl from Poland and then I went to her place in the town of Łuków. Thanks to this exchange I got to see what life in Poland is like. Furthermore, during my stay I visited Warsaw University, specifically the faculty of biology. I spent the whole day there, taking part in lectures and classes. Even though biology has never been my biggest interest, I spent an extremely exciting day, I learned a lot of new things and got to see what higher education in Poland looks like for English speaking students. Needless to say, this experience helped me a lot with my choice.
2. How is your experience in Poland going so far? 
So far this has been the most interesting and life-changing experience in my life. Before my arrival, the only thing I was hoping for was to be able to pass my exams and meet my expectations from the course. Most of my friends were saying that I am very brave because they would not go and live in a country if they do not understand the local language. This was not bothering me at all because all of my classes at university would be in English.
Upon arrival, however, I had a little bit of trouble finding a place to rent because almost every person I called hung up on me when they heard English language or they were politely saying that the apartment was already rented out. Eventually, I was able to find a place.
Even though I come from abroad, I never feel discriminated because I am not from Poland. Yes, being able to speak the language fluently gives you more opportunities for finding a better job or simply having less trouble dealing with institutions but that is something that you can always work on and improve. And what better way to learn a language than living in a country where everyone is speaking it?
I cannot ignore the fact that some of my friends are having a lot of problems with documentation such as temporary residence or insurance. Sometimes, they cannot even leave the country because they will not be able to come back. Luckily for me, I come from an EU Member State and I do not have to deal with all of this. However, I believe that these procedures can be improved in order to make the students' lives easier.
To conclude, I would say that pursuing my studies in Poland was the best decision I have ever made. Coming here opened my eyes about plenty of things. It made me less ignorant, more open-minded and willing to try out new things. I never even imagined that my life would change so much in just one year. I am looking forward to the adventures yet to come.
on a trip to Pieniny mountains
3. What you like the most about studying in Poland?
What I like the most about studying in Poland is the diversity. Yes, Poland may be not the most popular European destination for foreign students, however, there are representatives from around 30 countries in my university alone.
The need for being surrounded by different people is something I found out about myself only after coming to Poland. I have always loved traveling and visiting new places. However, I never considered traveling as a way of meeting new people, I just cared about seeing things. This changed. Less than a month after having started university, I had already met people from all parts of the world. I learned so many things from them and I keep on learning more and more every day. I always considered that nowadays we have all the information we need at our fingertips and that is not far from the truth. But getting firsthand knowledge about different countries is something very valuable.
Although I am not the biggest fan of Freud and his theories, recently I found out about one of his statements which I believe is very true. He suggests that the more different people you talk to, the more you learn about yourself. I could not agree more. I definitely feel like I have changed a lot during the past year and it is all thanks to everyone that I am surrounded by.
4. What would you tell students in your home country to encourage them to come to Poland?
This might sound like the biggest cliché but I would tell them that real things start happening only after you leave your comfort zone. Living in a country and not speaking the local language is not so scary. What is more, if you have the desire to, you can always learn it, if not fluently, then at least conversationally. Going for studies abroad is an absolutely exciting journey. Going off the beaten track is something even more exciting.  
5. Could you tell us your story?
I am Maria and I am 21 years old. I come from Velingrad, Bulgaria. My hometown is famous for its healing mineral water and the ridiculously high number of hotels – more than 80.
I graduated from Vasil Levski High School. I was very involved in extra-curricular activities. I have taken part in projects guided by the Junior Achievement program and I was president of our school company for a year. I took part in the school radio for 4 years and I was lucky to have the chance to visit the European Parliament in Strasbourg thanks to Euroscola. Last but definitely not least, I took part in an Erasmus+ project and got the chance to visit Poland back in 2017.
Currently I am living and studying in Rzeszow in the University of Information Technology and Management. My major is General Aviation. Apart from that I am participating in some of the university clubs like English Club, Students' Center for European Union Research, Aviation Management Club and the Student Council. We have various interesting activities and are responsible for the organization of events.
On a more personal level, I love music, traveling, reading and foreign languages. My favorite app on my phone is Duolingo and I am striving for a 1000-day streak. So far I have reached almost 750 days. As a kid I used to love skateboarding and waveboarding but now sports are not really my thing. I discovered music a little before high school and started playing the guitar. Later on I played the drums for about 3 years with my band. Of course, I have to admit like most people, I sometimes get in the trap of procrastination. After all, who does not enjoy an evening out with their best friends or staying in and watching a really nice show on Netflix?