Life of a student here in Poland is quite balanced - you will have a good standard at Uni, you could find a lot of events from student to have a good social life as well. 
1. Tell us why you have chosen Poland as your study destination?
The main reason is because Polish government offered me a full scholarship that covers my tuition fee and my living expenses. I could choose other place to go at that moment, but after a careful consideration and lot of discussions, I decided to go to Poland.
If you want to know more about my consideration specifically, you will find it on the following questions.
2. How is your experience in Poland going so far?
I could say that I really love and enjoy my stay in Poland which has been around 1.5 years. Living far from family is like riding a roller coaster, sometimes you will get excited with upcoming event, sometimes you will hate it when it is getting worse than your expectation. But why people still love to try the roller coaster or maybe getting addicted to it? That is how I explain my stay in Poland. I love the experiences, the excitement during the journey, the pumping adrenaline when dealing with something beyond than my expectation. When I already finish the semester, obviously I felt tired, but I want to do it more and more. Next question will be why do I still like to continue my stay here? It will be a very simple answer, the people.
I fell in love with Poles in general. I love their expression when knowing someone from far far away want to stay and study here in Poland. They are helpful and friendly. Yea it is not spontaneously happen like that. I should open my self to them and spread the smile to everyone plus trying to talk in Polish language. Trust me, they will be impressed and love you in a blink if you could say a few words in Polish.
I have an experience invited by a Poles to celebrate the Christmas with his family. It was not only with his dad or mom, but with his big family! They treated me in a very good way. You know, it is a very good feeling and such a warm ambience if you feel that you have been treated such in a very lovely way. It was the best feeling I have ever had during my stay in Poland.
3. What you like the most about studying in Poland?
I love the standard of the university here. The scoring system is very fair and transparent both for the professor and for the student. Honestly, the university schedule is tighter than the one that I had before, but I believe it is good for my development.
I could say that the life as a student here in Poland is quite balanced. What I mean by balance is you will have a good standard at Uni, you could find a lot of events from student to have a good social life as well. Beyond of that, I am saying that Poland also offers you lot of opportunities for internship. If you want to have the real experience of how the company applies the technology, you can just apply for it! From what I have experienced, various opportunities are widely open.
4. What would you tell students in your home country to encourage them to come to Poland?
What do you want at the most as a student? I believe all the students want to have a good environment to study especially the high standard facilities, good prospect for the future, and a super friendly supportive professor. Student are also mostly looking for a safe and fun place to enjoy their time while living as a student.
If you are agree with me, and I am 100% sure that you are, Poland is the right choice. I have been living in Poland for more than 1.5 years and I am still looking forward to the upcoming experience for me here in Poland.
Do you want to know more about the benefits in Poland? Let me put a list for you:
You are studying in European standard. You can do some exchange program in the Erasmus Network.
Since you already live in Europe, you could travel all around the EU area
Living cost in Poland is more or less the same as in Jakarta according to the numbeo.com
Polish Government offers full scholarship for Indonesia citizen.
If you want to go by your own money, it is still affordable. Go and check the university's website
Poland economy is growing consistently. It means you will have a good opportunity here
It is also possible to study and work at the same time! A lot of companies offer programs and various contracts for student!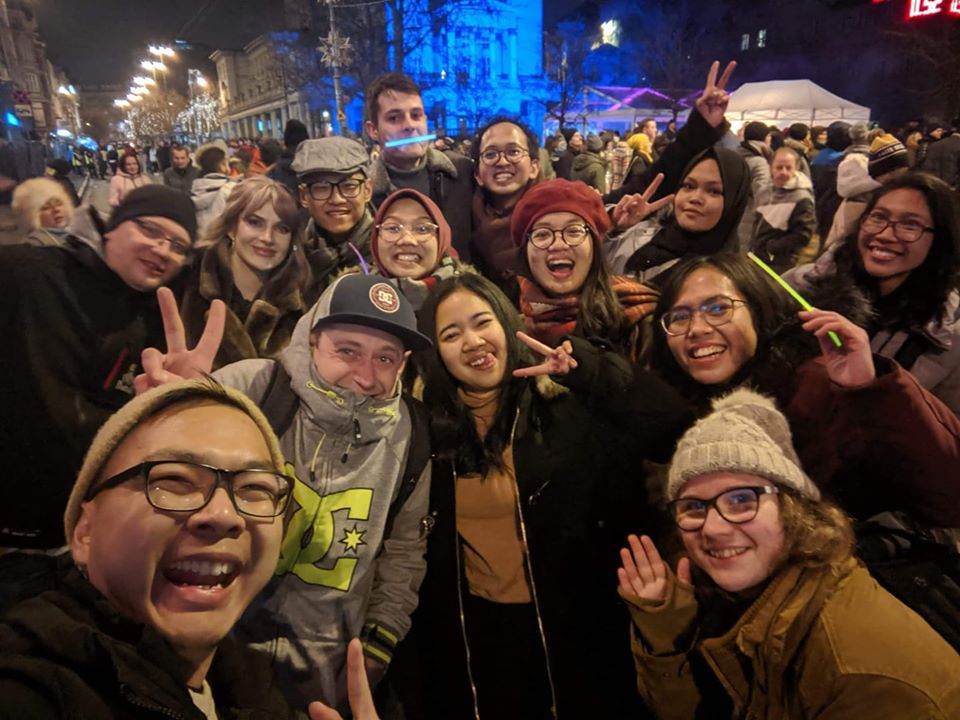 With fellow international students
5. Could you tell us your story?
My name is Jeffrey Hanafie, originally from Indonesia. I am currently a student on robotics master program at Warsaw University of Technology and holding a scholarship from the Ignacy Łukasiewicz program which given from Polish Government through NAWA. I was taking my bachelor from mechanical engineering program at Institute Technology of Sepuluh Nopember, Surabaya – Indonesia.
I love to explore my self and try many new things that I have never tried before. I am also managing my own YouTube Channel under name of Uwaga Uwaga Channel. At the same time, I am also contributing to the Organization of the Indonesian Student all around the word as a reporter which responsible to make video and share about the opportunity to study in Poland.
Outside of the engineering stuff, I love also to talk and discuss about economy, music, politics, psychology, etc. I promise you that I could be a good partner to talk! If you want to reach me, feels free to reach me on any platform. I would love to know more new people. 😊