If you choose Poland, you choose the whole world.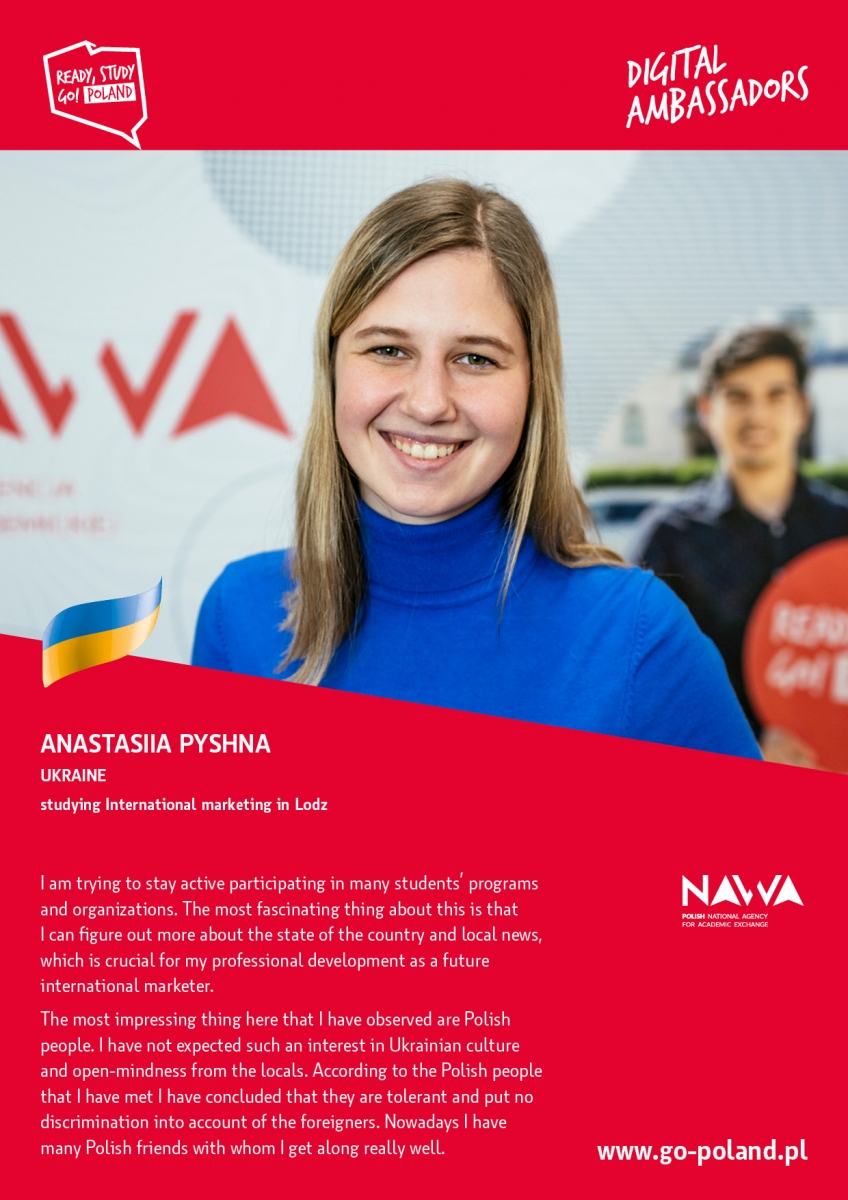 1. Tell us why you have chosen Poland as your study destination?
My family and I wanted me to get a good-quality European education in a developed country with a stable economic situation. Poland became a great option, because it appeared to be not extremely far from my home and financially affordable. The culture and people have also charmed me a long while ago when I have visited Poland for the first time. I am still impressed by the helpfulness of the local people that I have met. The other reason why I chose Poland and University of Lodz is that it holds international community of more than 80 nations. Indeed, in my group of International Marketing there are peers from  more than 10 various cultures. So I can clearly state now, if you plan Poland to be your destination of study you choose the whole world and tight multinational connections. In addition, a vital advantage for me became that Poland is an active participant of Erasmus+ program which gives  you an opportunity to study abroad with a financial support in most of the European Union countries. Therefore, next semester I am going to spend in Portugal as an exchange student due to this chance. Also the pleasurable thing that influenced my choice of university became a 50% tuition discount in the University of Lodz for the residents of the Eastern European Partnership Countries.
Honestly, I love the city of Lodz, for me it is a fascinating place to study. Everything you need is located here. In addition, it is never boring here because I have splendid friends which could make every place full of fun.
One more reason I chose Poland because one needs only 3 years to get a university diploma. I reckon it is the most optimal time of study period. I have just turned 18 years old, when I will get my Bachelor`s degree I will be 21.
2. How is your experience in Poland going so far?
Nowadays I feel that I am in a proper place where I have an ability to develop my personal and professional skills. I have surrounded myself with amazing people from all around the world and enjoy spending time with them. I am trying to stay active participating in many students'  programs and organizations. Together with IAESTE local committee we are creating social events for youth in the city of Lodz. Also I help ESN LODZ volunteering as a Mentor to the new incoming Erasmus students. Honesty, I would never probably meet people from Yemen and Ethiopia unless having this experience with Erasmus Student Network. And the most fascinating thing about this is that I can figure out more about the state of the country and local news, which is crucial for my professional development as a future international marketer.
However, the most impressing thing here that I have observed are Polish people. I have not expected such an interest in Ukrainian culture and open-mindness from the locals. According to the Polish people that I have met I have concluded that they are tolerant and put no discrimination into account of the foreigners. Nowadays I have many Polish friends with whom I get along really well.
Sometimes I feel like I am overloaded with activities I have taken here. However, I realize that youth is made for it, for rushing towards the goals without any stops. I use my time of being young in order to try everything I desire, and this type of thinking often brings me a success.
Recently I have been accepted to Internship in Whirlpool, so I am extremely excited to start my professional career in Poland.
3. What you like the most about studying in Poland?
All the people and international connections I have made here - if you choose Poland, you choose the whole world. I am proud of people who surround me here, they help me growing together with them and develop myself from the personal and professional point of view.
I love my university and all experience I have connected with it. It is not only about a great quality of study, but also about all the extracurricular activities it creates in order to involve all the students in an active lifestyle. The professors of my faculty are experienced professionals who inspire me to start practicing the theoretical information I get.
The University of Lodz provides us with many international programs where we can take part, for example, Erasmus+ program, International mobility program etc. Next semester I am excited to spend studying in the University of Porto, Portugal  with a financial support by Erasmus+ program.
The other thing that I love in Poland is everything connected with traffic :) Some drivers are so respectful to the pedestrians, that stop even when a pedestrian did not step on the road. Also communications inside the city of Lodz are pretty developed. Tram is my favorite transport to get to my faculty, because it comes every morning exactly on a time mentioned in a table. It wouldn't be so easy to find such regulations in many other European countries.
4. What would you tell students in your home country to encourage them to come to Poland?
All of the information above :)
I would mention all the advantages "why Poland?"  in order to show them my perspective of understanding of studying here. I would definitely mention the financial part, because Poland is one of the most affordable countries to get a qualified European education.
5. Could you tell us your story?
I am getting my first degree in the University of Lodz in International Marketing. I am keen on music, sports, and volunteering. I am a bookworm as well. I have been playing the guitar, ukulele and trumpet for a while. Furthermore, I am involved in a student organization called IAESTE Poland. I am into playing basketball and running long distances. There are no doubts about the fact that volunteering plays an enormous role in my life. I enjoy social volunteering, especially helping Peace Corps volunteers with their projects.
Since my childhood I have been a pro-active kid. In order to try something new, I participated in many projects, conferences, fundraising events and programs. From the fifth grade till eleventh I have been taking part in Olympiads in the Ukrainian, German and English languages.
One of my significant achievements in life is that I was selected as a finalist of a Future Leaders Exchange Program (FLEX), which is financed by US Department of State. I got an awesome opportunity to live and study in the United States of America for 10 months. That was a fabulous experience that taught me how to adopt to a completely new culture, be flexible and go out from my comfort zone.
In May 2018, I became a delegate to represent Ukraine on a game-model of the meeting of European Commission in Lubeck, Germany.
The year when I was graduating from school I was invited to the conference with a former President of Ukraine Petro Poroshenko and his wife. At the end of the conference I have given a speech in front of him. After this experience I am not afraid of anything :)
After that I have decided to get my higher education abroad in order to keep my multicultural experience growing. My view already has fallen on the University of Lodz because it is a state university and has a 50% discount for the students of a former USSR countries.