In my university, I have got the opportunity to meet lecturers from Poland and abroad that encourage every student to do research and remain passionate about our career.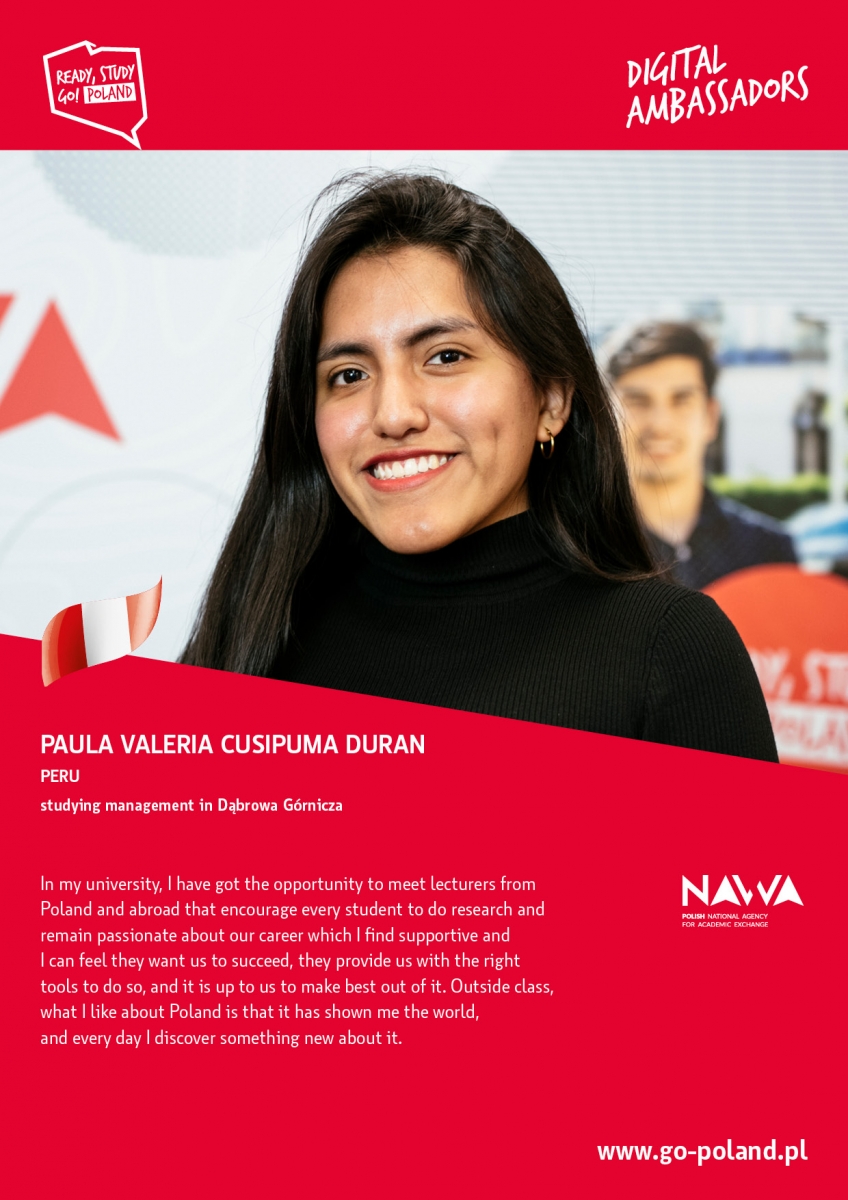 1. Tell us why you have chosen Poland as your study destination?
I would say, for my own experience and many I have been told, people who are meant to be Poland, they get chosen by Poland, not the other way around. I didn't realize it until I started listening to many stories on how people from all over the world ended up studying or living here. Here is the story on how I was chosen by Poland to be my study destination.
Around 2016, the last year of high school for me, there was this "what are you going to study and where?" pressure, and I could feel it everywhere. My dad is an economist, so I grew up surrounded by statistics, politics, economics, businesses, and the dream of "cruzar el charco" (cross the puddle, puddle for the Atlantic Ocean because to be in Europe we need to cross it).  I was looking for an international experience, which should be also affordable as my Latino middle-class family couldn't cover high tuition and living expenses.
One night I remember going a bit sad to my mom and asked: How could I make it? The absolute answer was a full scholarship. So, I started doing my research, there were many partial scholarships, some I couldn't apply because I was too young, or Peru wasn't enlisted, and I started getting worried. Time was passing by. Deadlines were approaching. I was overthinking it is now or never. Until one day, I remember I was about to give up, and suddenly, I refreshed the page of scholarships and it appear: POLAND. I stopped for a moment. Poland? How it comes? Let's have a look.
The offer was all about it. Management field was offered, it was a full scholarship, and the deadline was not that close so I could have time to prepare all documents and translations. BUT HEY STOP: I T  I S  P O L A N D. What did I know about it? Few. So again, a deep research started. I discovered so many interesting facts about the country, information about the people, the language, the culture. Everything seemed new and appealing for me. I wanted to try. Poland seduced me in some weeks, I was sure I was going to make it, because I had to. I had to be here.
With the opportunity to be in Europe, to have a high-level education in English, to be surrounded by other international students, and to in future be able to boost my professional career into a higher level: I was living the dream. Indeed, Poland somehow chose me, and she wasn't wrong. She chose me to study here and change my life, to be more independent, to think internationally, to know her world better from its roots. Poland chose me because she knew I was meant to be and do great things here with a good education as foundation.
2. How is your experience in Poland going so far?
Quite often I asked myself: What have I done to received so many blessings in my life? I must be a really good girl. But no (I mean yes, but this isn't the point). All these are the fruits of my effort, the fruits of my family's effort and the support of all the people who has been there for me somehow. My 15-years-old self would not believe what is going on in my life: it is just wonderful with its ups and downs. Poland has given me so many incredible opportunities, has taught me a lifetime in just 3 years. Poland has given me and still gives me countless good friends, and unforgettable memories, that altogether nurtures me and builds in me a more open-minded, inclusive, and joyful person. I left Peru with a great smile, I wasn't sad about leaving my family or going somewhere I have never been before. I was happy to start a new chapter in my life with the brilliant name of "Study in Poland". After more than 20 hours of flying, I got to the airport and there was Dominika, part of the International Relations Office of my university, she received me with a great smile too. I knew I was in the right place. Of course, since the beginning there are some difficulties still mainly because of the cultural differences, and still I get homesick every 4-5 months because I haven't been back to Peru since I came here and I do miss my family and friends, BUT I remind myself WHY and FOR WHO am I doing this and I get proudly back on track. Some of the funny things I have learnt here are: how to rent a room and fake I speak polish fluently to reach more people and offers, how to live independently for the first time and realized how spoiled I was back in my country, how to go to the hospital because my mom is a nurse and basically when I got sick she brought the hospital to our home, how to cook and don't starve or waste money ordering food, how to look for a job, how to get a job since I got one right after turning 18 in an American company based in Katowice, how to organize my life to be busy and get the most out of my time, and more important how to enjoy myself. Enjoy myself. That's it. How is my experience in Poland going so far? I am enjoying myself. 20 years old. Studying in a good university, studying what I am passionate about. Having friends from many countries with who I can share more than just a beer, but my feelings and what I am concerned about. Working in a finance related position in a prestigious company where I can apply what I am studying. Living independently a healthy emotional and physical lifestyle, having a schedule that looks like wake up- study-work-swim-cook-eat-sleep. Traveling around Europe, learning about its history, reading what I like, doing stuff I love. I mean, what have I done to received so many blessings in my life?
3. What you like the most about studying in Poland?
The study-in-a-foreign country experience is life changing, and I love it for that. I love seeing my life taking a greater step into the future with the time, and I am more than grateful that this time has a white and red label, named Poland.  Inside class, in my university, I have met many people from countries like Kazakhstan, Azerbaijan, Georgia, Mongolia, Uzbekistan, Moldova, France, Spain, Colombia, Venezuela, Argentina, Mexico, Italy, Vietnam, Thailand, India, Russia, Ukraine, Senegal, Egypt, and more, which I think is amazing. There is such a mixture of cultures, stories, and backgrounds that we share in class and we get a bigger perspective in topics such as international trade, economics, management and finance. It broads and enriches our professional knowledge and social skills. In my university, I have got the opportunity to meet lecturers from Poland and abroad that encourage every student to do research and remain passionate about our career which I find supportive and I can feel they want us to succeed, they provide us with the right tools to do so, and it is up to us to make best out of it. Outside class, what I like about Poland is that it has shown me the world, and every day I discover something new about it. Poland is located strategically to get to know whole Europe, new landmarks, new people, new experiences. While I have been in my studies, during the winter breaks I could manage some trips to countries like Germany or Denmark, I went there backpacking and as I said, it is life changing. Not going so far, here in Poland, I am fascinated by the distinct cultural perspectives, and I appreciate this country's people and history from my heart, they have shown me a new way of life, a safe and calm one (emphasis in this because I come from Latin America, and well, life there is… very different). Poland has given me life with many soups – Zurek, you are incredibly tasty and I could eat you every day without getting tired of it, and delicious sausages - kielbasa, I will keep you in my heart forever, cheesecakes - sernik, you are a Gods' dessert, and many tea flavors – In Peru we have only one and here I have found more than 10, with beautiful mountains 3 hours away from home in bus – which it's amazing because the nature lays right next to cities and people's homes, and with my polish friends – Nina, Martina, Jacek, Piotr, Marek, and more- they share with me this feeling of enjoying the moment, embrace it and be young because life is changing and that's the best part of it. While studying in Poland, I know I am part of the change for good and for a better more educated world. While studying in Poland, my life has changed, I couldn't love it and be more grateful for that.
4. What would you tell students in your home country to encourage them to come to Poland?
I bet you if you go and ask how it was to whoever has had the studying abroad experience, they will mainly mention two points: first, that it is an unforgettable journey; and second, that it changed their lives. Studying abroad is indeed a decision that impacts your life in a personal and professional level.
You and I come from Latin America. We as latinos have a particular way of thinking and behaving, our culture is very different from the European and Polish one. That makes us special and unique. When you study abroad, in Poland, you get to know so many people from many different countries who are as special and unique as we are, and you get to discover it face-to-face directly from them which for me is truly meaningful because these people will help you build your career, network, and they will be your good international friends for life.
You are in a new unknown place: Poland, where you will find out your strengths and weaknesses by yourself thanks to the diverse situations you will encounter here that will altogether make you grow, and isn't it beautiful? I think the cliché of "getting out of the comfort zone" is totally valid here, too. Fortunately, from my point of view, every day is a new adventure. It's fun, it gives you the opportunity to organize your life and at the same time to learn how to adapt easily.
You will gain skills and knowledge that will look amazing in your CV, of course not only for the expertise of the English or Polish language, but the fact that you received and graduated from a high-level education and lived the experience itself. If it's not in Poland, once here you got countries like Germany, Denmark, France or the UK, 3 hours away, where you could go, apply and get a job because once studying at a polish university which are characterized for their high standards in teaching across a wide range of courses plus your own added value, any company would benefit from it.
Said this, coming to study in Poland is not only about lessons and homework and everyday meeting new people, but exciting travel time for you! There are infinite number of places you could visit in your free time, just to mention: Kraków and its beautiful main square, Gdańsk next to the Baltic Sea, Warsaw oh Warsaw the capital, and the gorgeous mountains of Zakopane; outside Poland you got a city taken from a fairytale: Prague, the classy and very expensive Vienna, hipster and historical Berlin, etc. So many places to explore, take many photos and record many videos, to create lifetime memories.
Personally, one of the strongest reasons I encourage you to come and study in Poland is because you will learn the real value of your family and your home, and your country, your own latino culture. You may be now complaining about the chaos that our cities are, about the traffic, about the pollution, the government's corruption, the inequalities, about many things, and you may want just to find a scape and never come back to it. Once you will be here, yes everything will be far better and different, and that's the tricky part: you start missing all those bad- and good- things but you prefer Poland somehow. What about your family? What about your friends? What about your home? Once here, you will reassure the real value of all of it. You will be truly caring about your family, you will appreciate your friends more than ever before, you will embrace all the errors in your country's system and work for a change, for improvements, because after studying in Poland and having an European experience… You will have an outstanding example on how to be better.
5. Could you tell us your story?
One day I would like to write my own biography. Not because I consider my life is out of this world, or the things that have happened to me are extraordinary, but because I think my story is the story of many in Latin America. A story of great joy and countless sacrifices. One we all dance to the rhythm of salsa, cumbia or huayno, even when our foot can't any longer. Without much poetry, here's a little part of all of us that I would like the world to know.
"Abuelita, abuelita, is the food ready?" ("abuelita" stands for grandma). "You don't know how lucky you are to have something to eat when you get home, my dear" Indeed, I didn't know. I was too naive to understand how harsh life had hit her, with my dad confessing there were some days there was only tea and plain soup on the table. Poverty, a corrupted government, and a pronounced social economic inequality were bread and butter, more for whoever came from the Highlands, one of the most forgotten regions of Peru by the government and centralized capital, Lima.
"Mom, why can't I go to the beach as my friends do instead of coming every Saturday to study English for so many hours?!" That was me complaining. "You will thank me when you will be older." Oh God, I wish I could go back in time and hug her at those moments rather than frowning. My parents have experienced it themselves how education changes lives. They got into the National University of San Marcos (UNMSM, in Spanish), the oldest university in Latin America, for many the best university in Peru considering the government don't support them financially enough in comparison to the private universities where the tuition -in a good one- ranges from 1300 zl to 4800 zl per month. "In San Marcos, only the ones who study, triumph" would my parents proudly say. From not having their own bed or sharing it, from working being 10 years old, from not having their own clothes (as the older sibling would leave theirs to them), from all that and more to owning a flat and a car, to have a stable well-paid job, to be able to go shopping in international brands and go out for dinning in a nice restaurant. They are not rich, they are not in the high society of Peru (Yes, it does exist.), but it is huge progress. All because they studied. My parents, grandparents, and everyone in my family will always remind me: "Paulita, study. This is the only way."
"I left Peru with a great smile" and with the strongest commitment of making my family and myself proud along the way. Wherever I go, I do my best, I take responsibilities, network, find new opportunities. I say yes to live fully, to do many things, to go many places, to meet many people. My friends and acquaintances keep asking me: How do you do it? How can you handle all of this? I could give them the extensive and hard-to-understand answer, that I have witnessed the stories of my family, that I finally understood how much effort they have put in to achieve what they have and who they are now, and how ungrateful and disrespectful would I be if I throw it away. But I prefer to tell them "It is matter of time". If my family have been through that much, there is nothing I can't do having the right education, tools and opportunities. I really hope that when they will look back to those dark and sad times, and see me now, I really hope, they will be sure it was all worth it.
Paula Cusipuma Valeria Duran